Rent Portable on Demand Storage Containers at an Affordable Price in Chico
Best Portable on Demand Storage Containers in Chico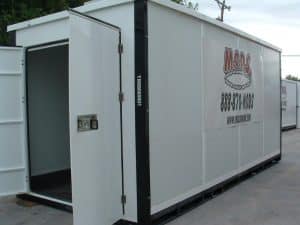 Looking for a flexible, portable on demand storage solution near Chico, TX? MODS Moving & Storage has you covered! Whether you're looking to stow stuff you don't have room for or need to get furniture out of the house for a home renovation, our portable containers can help you get the job done.
When you rent from us, we deliver your portable container directly to the location of your choice, so you don't have to hassle yourself with making multiple trips across town. You'll have the sole key to your container, so you can access your stuff 24/7, and no one but you will be able to get to your things.
We offer flexible rental terms and up-front, transparent pricing, so when you sign on the dotted line, you know exactly what to expect. If you're ready to rent a container, get a quote, or learn more about how our portable on demand storage solutions work, contact us today!
Secure Storage Containers for Rent
Your stored belongings are valuable, and if you choose to keep your container at our secure storage facility, we're in the business of protecting them. That's why all of our portable on demand storage containers are constructed from high-grade, weather-resistant steel, and we give you the singular key that unlocks your container.
Our storage facility features continuous security monitoring, and when we load up your container and haul it away, we use an advanced hydraulic lift system to help keep its contents stable and safe. If you decide to keep your container on your property, its high-quality construction will keep your stuff safe there too.
Reliable Moving Truck Alternative
Moving across the city? Relocating across the state? A MODS portable on demand storage container offers an affordable, convenient, and hassle-free moving truck alternative!
Simply rent your container, load it at your leisure, and give us a call when you're ready to go. We'll arrive at your location, load your container onto our truck, and haul your belongings to your new home. You choose your delivery date, and we'll drop off your container on the day you specify.
Unload your stuff on your schedule, and when you're finished with the container, give us a call to let us know. We'll drop by when it's convenient for you and haul the container away.
About Chico, TX
Chico is located roughly an hour northwest of Fort Worth in Wise County, Texas. Just over 1,000 Texans call this small town home, which was once one of Texas' leading producers of crushed stone for road construction.
If you're looking for a portable on demand storage or moving container near Chico, TX, our team at MODS Moving & Storage would love to help you out! Call us today at (702) 850-8001 or contact us online to get started!