Rent Portable on Demand Storage Containers at an Affordable Price in Timbercreek Canyon
Best Portable on Demand Storage Containers Near Timbercreek Canyon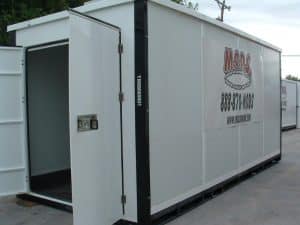 Portable storage containers are becoming a popular choice for moving and storage needs. This is because of the simplicity and security of our process and containers. Whether you are moving to or from Timbercreek Canyon or just need a temporary place to store your belongings, we can help take care of your needs. We are a local company and take pride in providing excellent customer service to our customers. We can offer you a hassle-free moving experience. When you work with a local, reputable company, you can rest easy knowing your belongings are in good hands.
Secure Storage Containers for Rent
Our storage containers are 8′ x 8′ x 16′, and they can hold the contents of a 1500-square-foot home. Our team will both drop off and pick up the containers. We have secure locations where you can store the container, you can keep it at your property, or we can move it to your new home when you are ready. We offer services in both Texas and Oklahoma. With us, loading is easy because we offer ground-level loading. This is much easier than hoisting things into a large truck or trying to use a ramp.
Reliable Moving Truck Alternative
Moving is stressful enough. Why deal with a rigid timeline? When using MODs, we deliver a weatherproof container to your location. You can take as much time as you need to pack. Whenever you have finished, we can come to pick up the container and drive it to your next location. If you need to store the container for a while, we have a secure location ready. We can bring the container to you whenever you are ready. Take the stress out of moving by allowing yourself some flexibility in the timeline.
About Timbercreek Canyon, TX
Timbercreek Canyon, TX, is a small planned community of just over 400 residents. It is gated and was under the jurisdiction of Amarillo before voting to incorporate. The Prairie Dog Town Fork Red River runs through the community, which provides stunning views. The river runs through some beautiful canyons, providing interesting topography and recreation opportunities.
Portable storage containers are rising in popularity. If you need to move to or from Timbercreek Canyon or just need a secure container to store your belongings for a while, contact us today. Get a quote online or call our Amarillo location at (702) 850-8001.