Rent Portable Storage Containers at an Affordable Price in Ardmore
Best Portable Storage Containers Near Ardmore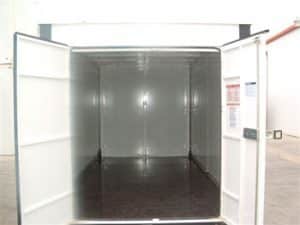 Whether you are looking to move or simply need more space, having an additional storage solution when needed is very important. If you have short-term storage or moving needs and are in the Ardmore, OK, area, one of the best options would be to rent a portable storage container from MODS. This company offers convenient portable storage containers that can be a great alternative to moving trucks and temporary storage solutions.
Secure Storage Containers for Rent
One of the advantages of using a portable storage container provided by MODS is that they are very secure. When you are looking to use a storage container, it could be situated outside of your home for days or weeks at a time. Due to this, you will want to know that everything within it is properly protected. A MODS portable storage unit will come with a strong lock and frame that can prevent thieves from getting in. They are also completely weather resistant, which will help ensure your unit is appropriately covered.
Reliable Moving Truck Alternative
Moving from one home to the next can be a challenging and stressful experience. One of the issues is that you may feel rushed to move everything out of your old home and into a new one on the same day. With a MODS portable storage and moving container, you will not have to do this. Instead, you can rent a storage container for as long as you need it and move on your own schedule. Once you are ready to have the container moved, you can contact MODS to have it transported from your old to your new residence.
About Ardmore, OK
The Ardmore, OK, area continues to be a great place for people to move to. Ardmore has a population of around 25,000 residents that enjoy the strong local economy, good schools, and a variety of local amenities. It is located about 100 miles south of Oklahoma City, OK, and 110 miles north of Dallas, TX. When you are looking to move to Ardmore or into a new home here, using a MODS portable storage container can be a convenient option.
If you are in need of a moving or storage solution in the Ardmore, OK, area, it would be a good idea to call the team with MODS today. This company offers a variety of portable storage and moving solutions and can answer any questions that you have about their products and services. You can also reach us online.