Best Mobile and Portable on Demand Storage Container in DFW and Oklahoma City Areas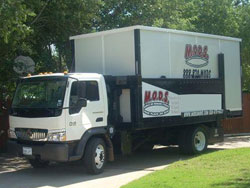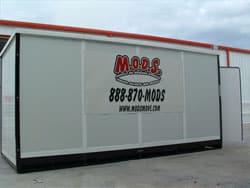 We are confident you will be impressed with your MODS Mobile and Portable on Demand Storage Container. Whether it's a local move or across the country,(serving most of Texas and Oklahoma), you will feel safe and secure that your most precious items are well protected. There's no need to worry about where your belongings are headed, like some poorly maintained storage facility. Your MODS unit will be delivered by our trucks to your location and when you're ready to move we will move them promptly and on time to your final destination.
Every one of our MODS Storage Containers are built with care to ensure your items are well protected. Our units are well ventilated to prevent moisture and mold build-up over time. Our "level lift system" prevents the contents of your container from shifting like traditional Roll-off trucks so you will have peace of mind that your belongings will arrive safe and sound to your final destination.
Self-Storage Moving Containers
Here at MODS, we provide you with self-storage moving containers. Each unit is weather resistant, easy to load, and we will pick up and deliver the unit ourselves. You will have the luxury and convenience of packing each container yourself. You can work at your own pace. For many homeowners, sorting through all the excess stuff is an adventure. You'll find so many missing pieces and possessions. But with a moving team, you don't have the same luxury. Our self-storage options give you some breathing room.
When you need a self-storage moving container, give us a call. We'll deliver a unit directly to your home or office. You fill it at your leisure, then call us back. We'll pick up the container and transport it to your new location or store it at our facility for the time being. Whichever you need. It's that simple. Give us a call today to discuss storage sizes and delivery details!
Our MODS Mobile and Portable on Demand Storage Containers are perfect for homeowners, and commercial, real estate and the construction industries. Here's a few points to know about our units:
Our Containers come in 8x8x16 ft. sizes
Double (2) sealed swinging doors….No roll-up doors that allow weather and dust penetration
We deliver to your home, place of business or construction site
Easy Access in and out with placement where you want it
You provide the lock, so you know you have control and added security
Keep it as long as you need it….No contracts
When you're ready to move just give us a call and we come and pick it up
Secure, all steel, weather proof durable protection
Embedded metal skids give your unit 6" of clearance off the ground
Our "Level Loading System" keeps your unit level while loading and unloading
No Roll-offs or tilting of your container and contents
Contact or call us today for our reasonable rates. You'll be glad you did!
There are no time-restraints. You are free to pack as slowly or as quickly as you would like, making moving very easy. Whenever you are ready to move, all you have to do is give us a call, and we'll take your MOD to your new destination or to our secure facility. Always transported gently with our "Level Lift System".
Oklahoma City, OK, Norman, OK, Edmond, OK, Fort Worth, TX, Arlington, TX, Keller, TX, Southlake TX, Grapevine, TX, Amarillo, TX