Best Portable on Demand Storage Containers Near Arlington
Arlington residents, you're in luck! With MODS Mobile On Demand Storage, the days of traditional, inaccessible, and inconvenient storage units are behind us. Now, you have the luxury of a storage container delivered right to your doorstep, waiting to be filled at your convenience. Whether you're a homeowner decluttering before a sale, a business stockpiling inventory, or simply in need of some extra space, MODS provides a seamless storage experience tailored to your needs.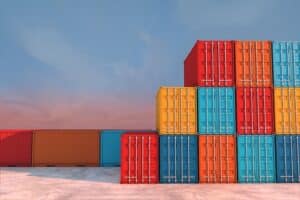 At MODS, we understand that renting a traditional storage unit or moving truck doesn't work for everyone — that's why we do things differently.
When you choose MODS for your storage and transport needs, we deliver a secure, weatherproof, portable container to your Arlington home or business. You pack and load your belongings according to your schedule, and when you're ready, we'll come pick up your container. Simply tell us where you want the container dropped off — your new location or our secure storage facility — and we'll take it there.
Our process is simple and straightforward. Best of all, it's designed to work on your timeline, not ours.
Storage Container Rentals in Arlington:
A diverse city like Arlington demands a diverse range of storage solutions. Here's a brief overview of what's on offer:
Ideal for smaller apartments or as an extra storage unit for businesses, the 10-ft container is compact yet spacious. Whether you're storing office documents, seasonal decorations, or small furniture pieces, this container is perfectly suited for the job.
Doubling in size, the 20-ft storage container can comfortably accommodate the contents of a medium-sized home. Perfect for homeowners in transition between places or businesses undergoing renovation, this container strikes a balance between space and convenience.
The largest of the lot, the 40-ft storage container is fit for large homes or commercial spaces. If you're moving cross-country, or a business that requires ample storage for inventory, machinery, or equipment, this is your go-to.
What sets MODS apart is not just the variety of sizes but the quality and convenience of their service. Each container is designed to be weather-resistant, ensuring your possessions are protected from the elements. Furthermore, the ground-level loading eliminates the need for ramps, simplifying the packing process. And the cherry on top? The "Level Lift System" guarantees your items are never tilted or mishandled.
Secure Storage Containers for Rent
Not all storage solutions are created equal, and you deserve peace of mind knowing your belongings are well protected. That's why, at MODS, we use only the most durable, high-quality materials to construct our portable, secure storage containers.
We've also outfitted our secure storage facility with multiple safeguards to ensure unmatched protection for your belongings. Here's how we keep your stuff safe:
Security doors constructed of dense metal to deter thieves and vandals
Single-key access to your storage container, which prevents anyone but you from accessing your things
Direct storage container transport from your Arlington home or business to our secure facility
A state-of-the-art Level Lift System that functions to reduce the risk of item damage during container transport and drop-off
Reliable Moving Truck Alternative
Why rent a moving truck for your Arlington relocation when there's a more convenient and flexible alternative? At MODS, we understand adhering to tight rental truck guidelines and mileage constraints only adds stress to your move. We're here to change that.
When you choose MODS for your move, we bring a portable, secure container to your Arlington home or business. We don't limit the amount of time you can have the container, which means you can pack and load your belongings on your schedule, not ours.
When you're ready to transport your things to your new location, just give us a call to schedule a convenient pickup time. We'll come to your home or business, pick up your container, and transport it directly where you need it to go.
Facts About Arlington, TX
Arlington, TX, is a vibrant city in Tarrant County, boasting a population of around 400,000, making it the seventh-largest city in Texas. Famed for its entertainment options, Arlington is home to the renowned AT&T Stadium, Globe Life Field, and Six Flags Over Texas. The city's diverse economy provides ample employment opportunities across various industries. With top-rated schools, numerous parks, and excellent public transportation options, Arlington offers a balanced and thriving environment for its residents.
About Arlington, TX
The city of Arlington, TX, is situated almost directly between Dallas and Fort Worth. Densely populated and part of the DFW metro, Arlington offers residents a bustling, suburban feel and convenient access to a wide variety of entertainment options and amenities.
In Arlington, TX, where life moves fast, and every second count, don't let storage woes slow you down. Choose MODS Mobile On Demand Storage for a hassle-free, efficient, and secure storage solution. Their commitment to quality and customer service ensures your belongings are in safe hands, always.
Contact MODS Today
Ready to discover how simple, secure, and convenient portable on demand storage containers can be? Contact MODS today for your storage and moving needs! Residents and businesses of Arlington, Fort Worth, and Amarillo – need a reliable storage solution? Look no further! MODS is at your service. Dial 817-847-6637, 405-720-7344, or 806-350-6637 now and experience the future of storage today!