Rent Portable on Demand Storage Containers at an Affordable Price in Carrollton, TX
Best Portable on Demand Storage Containers Near Carrollton, TX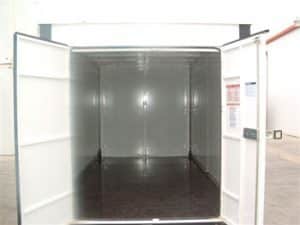 Anyone who lives in the greater DFW area and is planning to move to a nearby community or neighborhood is surely looking for ways to streamline the transition. With a Carrollton, TX, M.O.D.S.® portable on demand storage container, you can pack and load your household items at your own pace.
M.O.D.S.® is an innovative concept in the realm of moving and storage. We deliver a secure, portable, weatherproof storage container to your location. When you are done packing, we'll deliver the container to your new location or store it for you in one of our secure storage facilities near you. It's that easy when you choose M.O.D.S.® as the best storage container company near Carrollton, TX.
Enjoy Temporary Storage Near You
If the idea of hauling all of your possessions to a storage facility that may be poorly maintained doesn't appeal to you, M.O.D.S.® has an alternate solution to consider. Our mobile and portable on demand storage containers have metal-constructed doors and heavy-duty locks to keep others without a key out.
This means that you can keep your goods safe right outside your home until you're all packed up and ready to part with them. We'll pick up your unit and transport it to a secure facility of your choice or the one nearest your final destination. Containers are guarded with monitored surveillance and onsite security and are resistant to the elements. When it's time to move into a new place, we'll deliver them to your front door!
Secure Storage Containers for Rent
We rent secure storage containers near Carrollton, TX, sized 8' x 8' x 16', which can hold the contents of the average 1,500-square-foot home. We can bring you as many containers as you need at one time or as needed. You can only access your unit with your key, which wards off thieves. Our storage containers are weather resistant to keep your property safe from the elements.
Reliable Moving Truck Alternative
M.O.D.S.® offers those in transition an alternative to moving truck rentals. Moving trucks sit high off the ground and typically require the use of a ramp to load and unload goods, which poses a number of risks. Not only can moving trucks drain a lot of fuel, but they can be challenging to drive and maneuver on the roadways and in traffic. Our storage container rentals eliminate the need for a moving truck rental.
About Carrollton, TX
Carrollton is a sizable city in Dallas, Denton, and Collin counties with a population of more than 120,000 full-time residents. Carrollton, TX, is a vibrant community with easy access to jobs, attractions, and major malls both locally and throughout the DFW metroplex.
Moving Soon? Call M.O.D.S.®!
If you are moving within the greater Dallas–Fort Worth area, contact M.O.D.S.® online or call us at (702) 850-8001 to learn more about our convenient services. Our crews deliver, pick up, and store moving containers and have offices in Fort Worth, Amarillo, and Oklahoma City, and we deliver containers to all surrounding cities.