Rent Portable on Demand Storage Containers at an Affordable Price in Dumas
Best Portable on Demand Storage Containers Near Dumas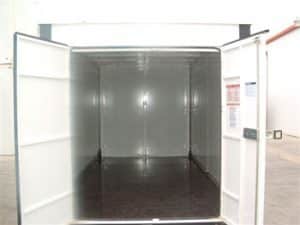 If you're looking for a portable, secure storage solution near Dumas, TX, look no further than MODS Moving & Storage! At MODS, we know storage units are dime a dozen, and we also know that many of them are far from secure and far from convenient. We saw an opportunity to offer a better way for people to store their things, and that's how our portable on demand storage container business was born.
Whether you need to store your stuff for a few weeks, a few months, or even a few years, we offer flexible rental terms to accommodate virtually any need. Our containers are fully portable, and we deliver them to your location, so you can load up your belongings at your convenience.
Ready to learn more about the most convenient storage option available in the Dumas area? Contact us today, and we'll fill you in on your options!
Secure Storage Containers for Rent
Many traditional self-storage facilities have security issues. At MODS, we're different. Our portable on demand storage containers are built as secure as a storage unit can be, and when you rent from us, you're the only person who has the key.
We understand safety and security are major concerns no matter how long you plan to store your belongings. That's why we've taken several measures to ensure your stored items are always protected to the highest degree. When you rent from MODS, you get:
A portable, steel container delivered directly to the location of your choice.
Single-key access to your container.
Completely secure, full-service transport of your container to our secure storage facility.
Advanced hydraulic lift technology that gently and evenly lifts your container to minimize the risk of damage to the contents inside.
We also offer up-front pricing (no hidden fees!) because trust is the name of our game. If you're ready to take advantage of the safest way to store your stuff, call MODS Moving & Storage today to get a quote!
Reliable Moving Truck Alternative
Planning a DIY move? Why go through the hassle of renting a moving truck when you can make things easier on yourself? A MODS portable on demand storage container can also function as a moving truck alternative, and the best part is, you don't have to drive it.
When you choose MODS for your upcoming move, we'll deliver your storage container to your home or building. You'll get to pack and load up your things at a pace that works for you, and when you're ready to move, give us a call to schedule a pickup, and we'll handle the rest.
Our team will deliver your container to your new home, and when you're finished unloading your things, call us to schedule another pickup, and we'll come haul your container away.
Ready to discover a better, more convenient way to move? Contact us today to learn more about how a MODS portable on demand storage container can help with your Dumas move!
About Dumas, TX
Dumas is a mid-sized town located in Moore County, Texas, approximately 45 minutes north of Amarillo. Nearly 14,000 residents call the livestock- and farming-rich area home.
If you're ready to take advantage of a better way to store and move your stuff, contact our team at MODS Moving & Storage to learn more about your options! Give us a call today at (702) 850-8001 or contact us online for more information.