Rent Portable Storage Containers at an Affordable Price in Edmond, OK
Best Portable Storage Containers Near Edmond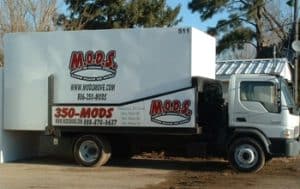 Looking for a flexible, convenient, and secure storage solution near Edmond, Oklahoma? Whether you need to store your things for a few weeks, a few months, or a few years, give MODS Moving & Storage a call!
At MODS, we rent out portable, secure storage containers that also function as moving containers. Our rental terms are flexible to accommodate a wide variety of needs, and when you rent from us, you'll enjoy straightforward pricing with absolutely no hidden fees.
If you're ready to take advantage of a better way to store and move your stuff, contact MODS Moving & Storage today to see what we can do for you!
Secure Storage Containers for Rent
Unlike traditional storage solutions, our storage containers are fully portable, which means when you rent from us, you won't need to travel back and forth to our facility to load up your things. Instead, we'll bring your container directly to you!
Simply select the size of the container you need and tell us where you'd like it delivered, and we'll come drop it off. From there, you're free to load your container at your convenience, and when you're finished, give us another call to schedule a pickup. We'll come to your location, haul your container away, and transport it directly to our secure storage facility.
When you choose a MODS secure storage container over a traditional storage unit, you'll enjoy several advantages like:
Ground-level loading. Our containers sit just four inches off the ground to make loading and unloading as easy and safe as possible.
Highly durable containers. MODS containers feature steel frame construction, marine-grade wood flooring, and a 110 mph wind-resistance rating.
Single-key container access. When you rent from MODS, you'll take possession of the singular key that unlocks your unit.
Advanced lift technology. Whether we're picking up your container or dropping it off, our advanced hydraulic lift system ensures your belongings remain level throughout the process. This significantly reduces the risk of jostling and item damage.
Ready to discover what sets us apart from all the other on-demand storage providers? Give MODS a call today to find out!
Reliable Moving Truck Alternative
Moving is hard work, and at MODS, we're here to make it easier. If you're getting ready for a do-it-yourself move, our portable storage containers offer a convenient alternative to renting a moving truck.
When you rent a moving container from us, we'll deliver it directly to your location, and from there, you're free to load up your container at your leisure. Once you're finished loading, give us a call to schedule your pickup, and we'll come to your location, load up your container, and bring it directly to your new home.
Unload the container at your convenience, and when you're done, let us know, and we'll come back and haul the container away.
About Edmond, OK
Edmond, Oklahoma, sits about 20 minutes north of Oklahoma City, and nearly 100,000 people call the town home. The city is located on the historic and scenic Route 66 and is part of the OKC metro area. According to the FBI's Uniform Crime Reporting numbers, Edmond is one of the safest towns of its size in the United States. To learn more about your portable storage container options with MODS Moving & Storage, feel free to give us a call today at (702) 850-8001 or contact us online to request a quote.