#1 Portable Storage Container Service in Jones, OK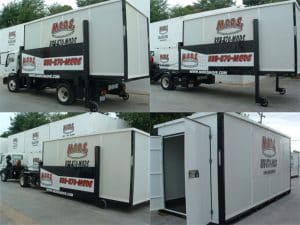 Whether you're planning a big move or just clearing some space out of your home, we have portable storage container service in Jones, OK, to keep things running smoothly. You should never settle for second-best; trust in Mods Moving & Storage for top-rated storage container services to make life easier.
Secured Storage in Jones, OK
Over the years, you've likely acquired a number of prized possessions. You want these possessions safe and secure for many years to come. To that end, we offer secured storage in Jones, OK. Our secured storage is convenient, safe, and perfect for your needs.
Portable Storage Containers for Rent
For your convenience, we also offer portable storage containers for rent in Jones, OK. The ease of use and affordability of each storage container is just what you're looking for when cleaning or moving. Even better, each one is large enough for your household possessions, furniture, and more.
Residential Storage Containers
Everything you own is coming with you when you move. Chances are, unless you're deadset on selling, you need space to transfer everything over. A residential storage container is ideal. Mods Moving & Storage has the storage containers that make your upcoming move a breeze.
Onsite Storage Containers
Here at Mods Moving & Storage, we're able to deliver storage containers straight to your home. We'll drop a single unit off to your home, you can fill it at your leisure, then we'll transport it wherever you need.
About Jones, OK
Jones remains a small town in Oklahoma City, with its charm community-oriented vibe. Whether you're moving into or out of the city, Mods Moving & Storage would like to make your experience in Jones better overall!
Now is your chance to find the top storage and moving services in Jones, OK. Call Mods Moving & Storage at 405-720-7344!