Rent Portable on Demand Storage Containers at an Affordable Price in Justin
Best Portable on Demand Storage Containers in Justin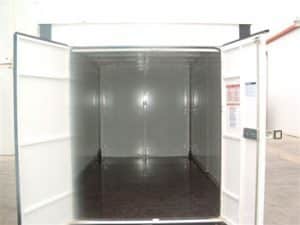 Need to store some stuff for just a few weeks? Want to put your belongings in storage indefinitely? No matter how much you're looking to store or how long you want to store it, renting a storage container from MODS Moving & Storage is the best way to go!
At MODS, we offer portable on demand storage containers for Justin, TX, residents and individuals in the surrounding areas. Our transparent, up-front pricing (no hidden fees!), reasonable rates, and full-service container delivery and pickup make both short- and long-term storage easier and more affordable than ever.
When you choose MODS, you'll enjoy an uncommonly convenient storage experience. You'll be able to load your things on your schedule, without ever leaving home, eliminating the hassle and expense of multiple trips to a traditional storage facility.
Ready to explore your portable on demand storage container options near Justin, TX? Call us today to get a quote!
Secure Storage Containers for Rent
When you rent a secure storage container from MODS, we deliver it to the location you specify, leaving you free to load up your belongings at your own pace. When you're finished packing your container, simply give us a call, and we'll drop by to pick it up.
Using our advanced, hydraulic lift system, we carefully load your container onto our truck to minimize the risk of damage to your belongings. From there, we transport it directly to our secure storage facility for safekeeping. You're the only person with a key to your container, so you're the only one who can access your stuff.
Reliable Moving Truck Alternative
Ready to relocate? Don't want to hire movers or rent a massive, awkward-to-drive moving truck? Let our team at MODS help you out! Our portable on demand storage containers can do double duty as a reliable and secure moving truck alternative.
Whether you're moving locally or long distance, give us a call. We'll rent you a container, drop it off at your door, and let you load up your belongings as you see fit. When you're ready to move, simply schedule a pickup, and we'll arrive to load up your container and transport it to your new home.
You can unload your things at your leisure. And when you're done, call us again, and we'll come pick up your container. You can send some of your stuff to storage or unload all of it — whatever you need. Just let us know, and we'll plan accordingly.
About Justin, TX
Justin is a small, outer-ring suburb of Fort Worth located in Denton County, Texas. Just over 4,400 Texans call the town home and enjoy a tight-knit community feel, a growing economy, and excellent transportation. With its proximity to the DFW metroplex, Justin is an ideal place to live for those seeking a peaceful home base that offers quick access to all the amenities of the big city.
Whether you're ready to relocate or need to store some stuff you rarely use, don't hesitate to reach out to our team at MODS for a portable on demand storage container quote. Give us a call at (702) 850-8001 or contact us online to get started!.