#1 Portable Storage Container Service in Mead, OK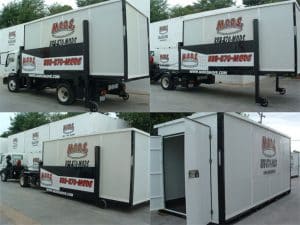 Making a big move is quite a challenge. Despite what you may have heard, however, moving doesn't always have to be so hard. With Mods Moving & Storage, your next move could be a breeze. Or, if you're just trying to clean up your home, our storage solutions in Mead are top notch!
Portable Storage Containers for Rent
A portable storage container is the perfect mix of convenience and efficiency. Each container is completely portable, meaning we can drop it off and deliver it anywhere you need. If you're packing up your home for a big move, a portable storage container for rent is easier than renting a big box truck for the coming days.
Residential Storage Containers
When you're planning a move, everything you own is likely coming with you. Unless you choose to sell off certain items, you need space for everything. Our residential storage containers in Mead are designed for homeowners who like their possessions and want to keep them secure for the trip.
Onsite Storage Containers
An onsite storage container is built strong to protect all that you own during transit. Each container is dropped off at your home, so you can fill it at your convenience. Then we drop it off at your new location when you're done.
Secured Storage in Mead, OK
A secured storage solution in Mead ensures your favorite possessions, furniture, and more are safe and secure. Our storage facility is designed with you in mind. It is a convenient option that allows you easy access to your goods.
About Mead, OK
Mead, originally named after its first postmaster, C. W. Meade, remains a small town with under 200 residents. Come by in May or April for a pleasant walk through town.
You'll find the top storage and moving services in Mead, OK, with Mods Moving & Storage. Call us anytime at 405-720-7344 today!