Rent Portable on Demand Storage Containers at an Affordable Price in Mineral Wells
Best Portable on Demand Storage Containers Near Mineral Wells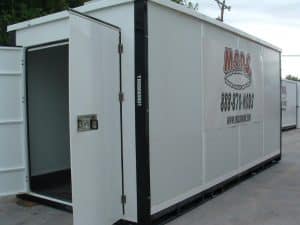 When you are moving or just need a place to store your belongings temporarily, it's important that you have a simple and secure option. This is exactly what you get with M.O.D.S.® You pack your belongings in a secure, portable container, which can stay on your property or be stored inside our secure facility. If you are moving to or from Mineral Wells, we can move the unit from your old home to your new one. We serve both Oklahoma and Texas. Being a local company, we strive for excellent customer service.
Secure Storage Containers for Rent
Our storage containers are 8' x 8' x 16′. These can hold approximately the contents of a 1500-square-foot house. Our containers are weather resistant and can be loaded near ground level. Our team will deliver the container to your home, and you can take your time filling it. When you are ready, we can pick up the container and store it at our secure facility. This offers flexibility and ease for your storage needs.
Reliable Moving Truck Alternative
If you are moving to or from Mineral Wells, consider a reliable moving truck alternative. We make the process easy by dropping off the container for you. Take as much time as you need to pack the container, and let us know when you're done. We will pick up the container and can either store it until you are ready or take it right to your next home in Texas or Oklahoma. All containers are transported with our gentle "Level Lift System," so you know that your belongings are safe.
About Mineral Wells, TX
Mineral Wells offers small town charm, an interesting history, and plenty of adventure. This town of just under 20,000 people is named after nearby mineral wells. These wells were hugely popular in the early 1900s and brought many people to the area. Today, the close-knit town has many events and festivals each year. These include the Mardi Gras Parade and Shrimp Fest, National Trails Day and Trail Mixer, Merry Wells Lighted Parade, and Christmas Festival. Popular attractions include Lake Mineral Wells State Park and Mineral Wells Fossil Park. There are plenty of opportunities to enjoy the beautiful outdoors.
If you need a sturdy and secure storage option or a way to move your belongings to a new home, contact M.O.D.S.® today. Get an online quote or call (702) 850-8001.