Rent Portable on Demand Storage Containers at an Affordable Price in North Richland Hills
Best Portable on Demand Storage Containers Near North Richland Hills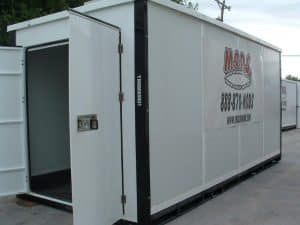 If you're looking for an affordable, secure, and convenient storage facility near North Richland Hills, Texas, you've come to the right place! At MODS Moving & Storage, we provide portable, weatherproof storage containers that can function as short- or long-term storage units and moving containers.
When you choose MODS, you'll enjoy up-front, cost-effective pricing with no hidden fees, flexible container rental timelines, and full-service pick-up and drop-off of your portable container. We have locations in Fort Worth, Amarillo, and Oklahoma City to ensure our facilities are easily accessible and employ state-of-the-art lift technology to keep your belongings safe.
Ready to learn more about the most convenient storage solution in the North Richland Hills area? Give us a call today to discuss your storage needs!
Secure Storage Containers for Rent
Although there are plenty of storage facilities in the North Richland Hills area, many of them are far from secure. Cheap construction, low-quality materials, and a lack of security can leave your valuable belongings vulnerable to damage or theft at many traditional self-storage units.
At MODS, we do things differently. Our on-demand, weather-resistant storage containers are constructed from highly durable, premium-quality steel to ensure your belongings remain protected. When you rent from us, you'll have the only key to your container, so no one else can access it but you.
Here's how our secure storage container rental process works:
Rent your container and schedule a convenient drop-off time.
We deliver your container to the location of your choice.
You load your container at your convenience, and when you're finished, give us a call to schedule a pick-up.
We arrive at your location on schedule, load up your container, and transport it to our secure storage facility.
We strive to make storage as convenient, secure, and cost effective as possible to give you peace of mind and the ability to safely stash your things with ease.
Reliable Moving Truck Alternative
If you've ever used a DIY moving truck, you know what a huge hassle renting that truck can be. Strict rental timelines, overage fees, fuel costs, and hauling heavy stuff up and down steep ramps can make your DIY move far more stressful than it should be. And driving those trucks? That can be a huge headache, too. At MODS, we're here to change that.
Our portable moving containers can also function as a moving truck alternative whether you're moving to or from North Richland Hills. Simply rent your container, schedule a time for us to drop it off, and load up your belongings as quickly or slowly as you want to. When you're done, give us a call to schedule your pick-up, and we'll haul your container directly to your new home.
When you're finished unloading your stuff, schedule another pick-up, and we'll stop by and haul your empty container away.
About North Richland Hills, TX
North Richland Hills (NRH), Texas, is the third-largest city in Tarrant County and a bustling suburb of Fort Worth. In 2006, Money magazine selected the city as one of the "Top 100 Best Places to Live in America," and according to the Dallas Morning News, NRH is ranked as the ninth-best place to live in North Texas.
Ready to work with the most trusted storage facility near North Richland Hills, TX? Give us a call today at (702) 850-8001 or contact us online to get a quote!